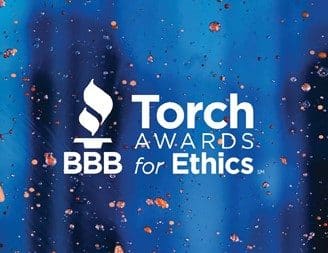 I Heart Real Estate Wins BBB Torch Award for Ethics
Plymouth, MI – Nov. 10, 2021—The Better Business Bureau of Eastern Michigan and the Upper Peninsula is proud to recognize I Heart Real Estate as a recipient of the 2021 Torch Awards, honoring the highest standards in ethics.
"All of the businesses who filled out applications for our Torch Awards for Ethics demonstrated how their business puts ethics at the forefront," said Melanie Duquesnel, president and CEO, Better Business Bureau of Eastern Michigan. "It was a very close race this year, but our five recipients stood out amongst their fellow finalists." We are thrilled to be able to honor the winners, and all the finalists, for the ethical work that they do."
The judges said, "The company's motto of "Serving Our Clients, not Selling them" is what all service industries should embody. Its practice of empowering the agents, to be the best version of themselves, makes for a rewarding experience for everyone. Faith, family and houses, appear to be more than words to them, it's the platform they stand for with every client and throughout the community."
Winners in five categories, based on company size, were announced during a luncheon on November 10, 2021.
ABOUT BETTER BUSINESS BUREAU
BBB Serving Eastern Michigan is a non-profit organization with the purpose of promoting an ethical marketplace and creating a community of trustworthy businesses and charities. BBB provides objective advice, BBB Business Profiles on more than 5.3 million companies, 11,000 charity reviews, dispute resolution services, alerts and educational information on topics affecting marketplace trust. Better Business Bureau provides its services free to the public in its service area that spans the eastern half of the Lower Peninsula from Jackson county, north through central Michigan to Alpena and includes the entire Upper Peninsula. Visit bbb.org for more information.